Really overdue post - I don't know why the short week last week left me feeling so burnt out, but I got a little bit of rest this weekend. With all the snow the past couple of weeks, the mail got all sorts of messed up - I had to call Amazon.com about a package that somehow got delivered to the wrong address. Thankfully they sent a replacement the next day :) Pink sent out some Valentine's Day goodies to some ladies and I got mine a few days late...
homemade cookies (with some m&ms for good measure!) :) Only the cookie pictured above survived - the rest of the bag contained crumbled remnants, haha...but I still ate everything with the help of a spoon!
Earlier this month Pink mentioned a spot treatment that she really liked in one of her blog posts - it was something to replace the Laneige spot treatment (which is no longer available). A Twitter convo ensued and I asked if any of the NYC/NJ ladies could do me a solid and pick up a tube of the spot eraser since it'll still be a while before I can get to NYC. Vickie was a sweetie and stopped by The Face Shop while she was in the city and sent me this lovely piece of mail: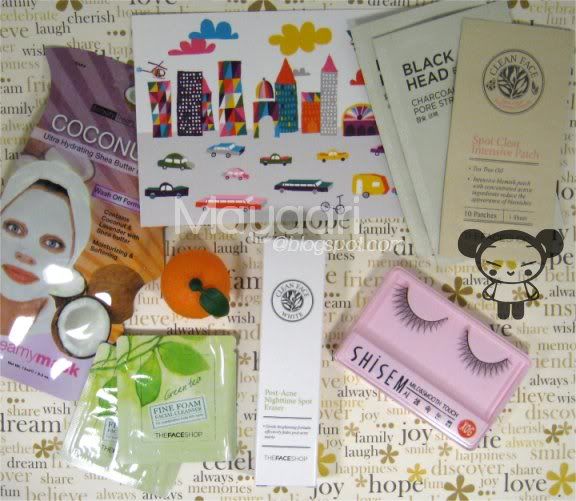 isn't the postcard adorable?
She included some other Face Shop samples (cleanser, nose strips, acne patches), some Shisem lashes, and a coconut hydrating mask...with a slightly scary lady on the front :)
What's the secret item I asked for?
The Face Shop Clean Face White Post-Acne Nighttime Spot Eraser
It looks like you can only get this item from a brick and mortar shop. It's a cream to spot treat discoloration/acne scars, to help whiten and brighten the spots to make your skin look even again. From my recent acne and the oh so wonderful reaction to using retinol cream, my acne scars and eczema spots have left my skin looking rather red and spotty. You can't really tell when I have makeup on because I use foundation, but I'm hoping that this will help to get rid of the spots on my face so that I can use lighter foundation formulas. I've been applying this at night ever since I got it, and after testing it on a few spots (in case I had a bad reaction to it) for the past 3 weeks, I'm noticing an improvement!
This will probably work better on new scars/discoloration, since there's less time for the skin to remain damaged, but so far I'm happy with the results and I plan on treating the rest of the spots that I've got. The initial test spots were a few weeks old when I started applying the spot eraser, so I know it'll probably take a little longer for them to go away. I plan on buying more of this when I go to NYC :) and Miss
Vickie
? We soooo need to get together while I'm in town! I'm jealous of all the yummy dining you get to do with
Jenn
,
Jenn
,
Lynnie
, and
Lily
=P and
Tammy
and
Mona
(I know you guys don't get to meet up as often, but I know I'll see you in April with
Kay
:D)
I got a lovely surprise in the mail from
Blair
just before Valentine's Day as well - her package threw me off for the Secret Valentine Exchange, since she had something tagged with a "happy valentine's day" in the package, but it turned out to be an early birthday gift :)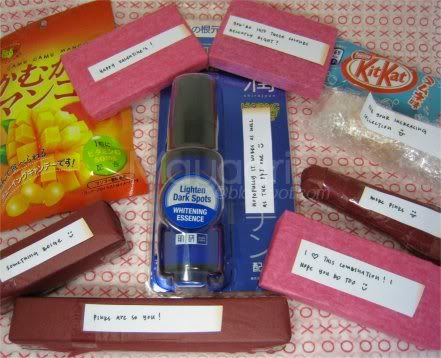 so many goodies!
the sweet card - hope I wasn't supposed to wait until my birthday to open this =P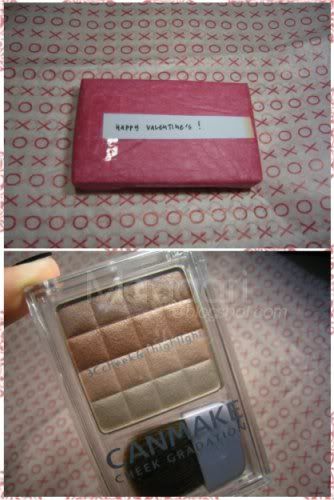 Canmake Cheek Gradation in 04|Chocolate Stripe
I've been wanting this blush for a while now, since I love the 01|Pink Stripe and 05|Peach Stripe blushes so much - this one looks more like a pink/beige mix :)
I'm not sure what brand or shade this is since I can't read the back, but aren't the colors lovely?
Looks like another set of shadows I can use for neutral looks at work!
Maybelline Eye Studio eyeshadow in 03|Grey Pink
Looks like an Asia exclusive shade (I haven't seen this set in any of the drugstores near me)
shimmery white, petal pink, light grey, and dark grey shadows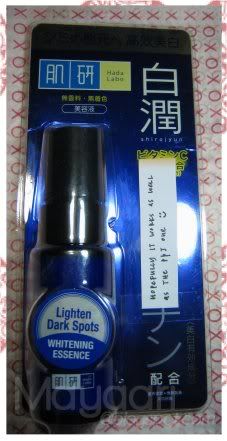 Hada Labo Whitening Essence
another whitening item :) perhaps I'll test this on a spot or two to compare it with TFS Spot Eraser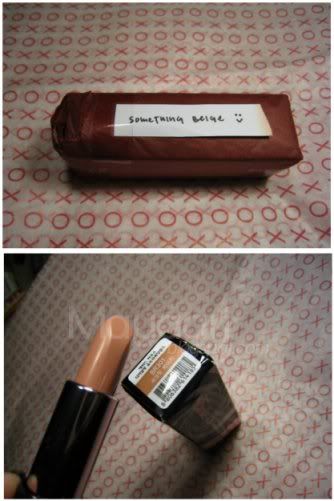 Etude House Dear Darling Ultra Firming Lips BR30
a pretty beige cream lipstick...I'll add a swatch of this soon, I have so many lipsticks currently in rotation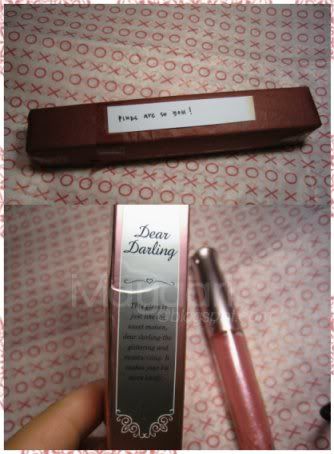 Etude House Dear Darling Gloss #12/Pink Sherbet
a pink lipgloss with what looks like tons of fine pink shimmer - I can't wait to try this out!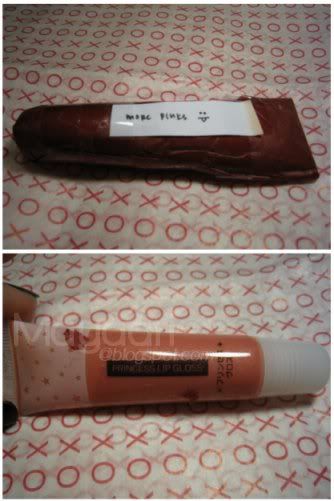 Princess Lipgloss
another shimmery pink gloss :) I think Blair's got me set for pink glosses this spring!
Etude House Nail polish OR203
pale orange with flecks of reflective gold shimmer
it reminds me of an orange creamsicle :) and I'm currently wearing this on my nails! (still painting as I type, so no pics)
the aftermath...lol she wrapped up each item so carefully! Thank you so much for everything Blair! You picked out some really gorgeous items for me :) I hope I can find something good for your birthday this summer :)
More posts coming up, now that I've got the memory card in my camera sort of cooperating with me...it seems to be lagging with uploading the photos to the online storage site, so I need to look at the settings again. I just took pics of the items for my final 2 year blogiversary giveaway, so you'll see the goods and details for that giveaway this week!