My initial review of L'Oreal Skin Genesis products can be found here:
L'Oreal Skin Genesis
It has now been 8 weeks since I started using the
Skin Genesis Eye Serum
and
SPF 15 Moisturizer
, and I'm following up with my reaction to both products. The Skin Genesis products are targeted towards individuals who wish to help strengthen skin to maintain a youthful appearance, as skin begins to weaken once we reach the age of 30.
Eye Serum Update
:
Although the serum provides a decent amount of moisture to my undereye area, I stopped using it in the morning. The consistency and waiting time for it to get absorbed by my skin took too long while I got ready for work, and the excess moisture (no matter how much or how little I used) made my concealer look cakey. I still use it at night. I have no idea how long it will actually take me to use up the bottle, especially now that I'm only applying it once a day, so the $20 price tag doesn't seem that bad, if you consider that I've been using it daily for 2 months and there's barely a dent in the bottle. I don't think it did much to get rid of the dark circles under my eyes - applying it in the morning did give the illusion of lighter circles, since there are some reflective bits in the serum, but there haven't been any long-term effects. I haven't been sleeping well the past couple of weeks either, so I am sure that affected the outcome - at least to come degree, since my circles have worsened as a result of my lack of sleep.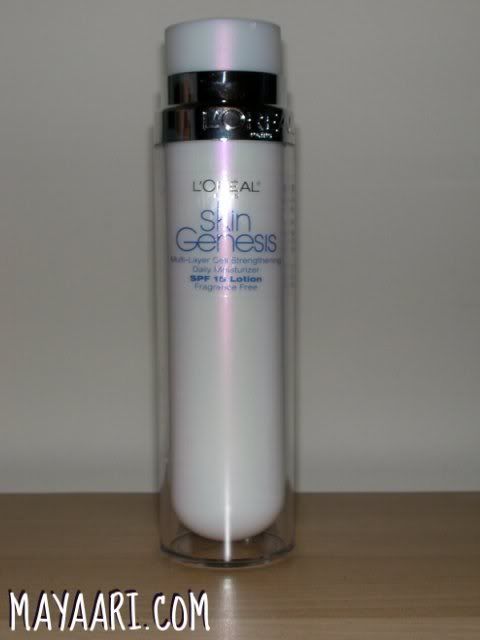 Multi-Layer Cell Strengthening Daily Moisturizer with SPF 15 Update
:
This is definitely my go-to moisturizer during the day. There is now a slight plastic/chemical smell (but it's not the smell of sunblock) to the moisturizer after I pump some out of the bottle, but that could be from the packaging itself. Once I apply the moisturizer to my skin, I don't notice any smell. It still goes on very light, and doesn't feel heavy or greasy on my skin - which is a good thing, because the muggy DC weather is just around the corner. Again, I've been using this daily for 2 months now, and it doesn't look like I've put much of a dent into the bottle, so the cost evens out in the long run. I don't have that many lines (at most, 2 lines on my forehead that aren't usually visible) on my face, but I feel like my skin has improved - overall my skin feels smoother and it's actually starting to look even.
I will likely continue to use both products until I run out. I would definitely purchase the
Daily Moisturizer
again, but I'm not sure about the
Eye Serum
. My hunt continues to find an effective eye cream...